The Quiet Earth recently posted an article on Dogs Of Chinatown. You can check it out here. Big thanks to our friend Don Neumann for hooking this up.
********************
More internet buzz thanks to our friends at
Kungfucinema.com
. They recently posted a piece about our film. The article can be read
here
. We especially want to thank Mark Pollard for putting this together for us.
********************
Carolina News 14 Story on Dogs Of Chinatown
********************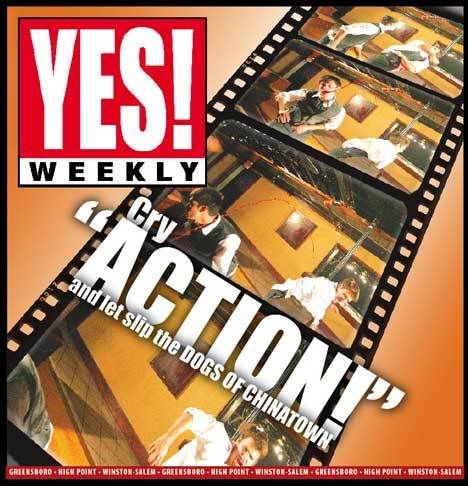 A huge thanks goes out to our friends Mark Burger and Kenny Lindsay at YES! Weekly for coming out to do a story on us (and giving us the cover to boot, sweet!). They even got the bloody stuff on the cover as well. YES! Weekly rocks! We look forward to seeing you guys at the wrap party. The article can be found online
here
.
********************
More thanks go out to our friends at twitchfilm.net for posting a story about Dogs Of Chinatown. Twitch has been a personal favorite of Micah and myself. They are one of the coolest movie sites online and are really big into foreign films especially Asian and European projects which are huge influences on the both of us. These guys have been very kind to us even going back to our short film, Ninjas Vs Pirates which starred a couple of the Dogs cast, Ray Wood, Brian Lee and some guy named Micah Moore. You can check out the article here.
********************
WFMY News 2 Piece on Dogs Of Chinatown